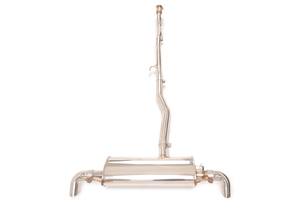 Description
We are proud to introduce you to the state of the art Stone Exhaust Valvetronic Cat-Back Exhaust System, to enhance the performance and sound of your Mercedes-Benz C118.
Stone Exhaust has been developing world's best exhaust system since 1998, starting with 3D scanning and reverse engineering the OEM system, this allows the Stone engineers to design a 100% OEM fitment exhaust with precision. With our in-house dyno, your BMW exhaust system is proven to produce more power with the enhanced Stone signature exhaust sound.

The Cat-Back Valvetronic System comes with a separate remote controller that gives you full control of the exhaust, allowing you to open and close the valves with a click of a button. You can also set it in auto mode for the valves to open at a certain rpm automatically. The Stone Valvetronic system is a plug and play system, and connects to your OBDII port, which can be installed within a few minutes.

Please Note: For 4matic AWD models only. Not compatible with diesel models. 
Features
STONE Valvetronic Mercedes-Benz C116 CLA220 4matic Exhaust System.

Valvetronic System

One Piece Design

Mechanical Welding with Precision

In House Research and Development

3D Scanning & Reverse Engineering

Remote Control with On / Off / Auto settings

Dyno Developed In House

Reduces Drone
R&D and 3D Scanning
Stone Exhaust engineers use reverse engineering by 3D scanning OEM parts to understand their functionality and identify weaknesses. Data has been collected continuously in order to analyze factors such as pipe diameter, route and degrees of the bending angles of the Exhaust System found on the Mercedes-Benz AMG M260 M270 C/X117 W177, A180, A250, A35 & CLA250.
During R&D, Stone Exhaust utilizes the 3D simulation software to stimulate the exhaust gas flow movement, thermal and pressure rise zone. Progressive improvements were continually made until the optimal performance was achieved. 
7 Axis CNC Bending Machine
Stone Exhaust System are constructed utilizing a 7 axis CNC Bending Machine which is the ultimate machine for high levels of precision delivery, necessary for industries such as the aerospace and defense industries.
With the state-of-the-art bending machine, Stone Exhaust has achieved the industry's standard to an impressive 98% roundness, whilst maintaining the wear of the outer bore at only 25% at 180°. Airflow obstruction and welding fracture problems are prevented by utilizing this technology. With the combination of the CNC Bending machine, Reverse Engineering and 3D Design Scanning, Stone exhaust has created an integrally molded exhaust pipe with an accuracy error under 0.025mm. 
Crisscross and Overlapping Welding Technique
The flange between the turbo and the downpipes reaches extreme temperatures (800℃ to 1100℃) which creates stress on the connection point. By utilizing both welding techniques to increases the width and penetration of welds. This increases the endurance and tolerance of these connection points, leading to quality products with reliable performance.
Direct Spot Welding
Our highly skilled engineers perform direct spot welding to increase product strength. This is undertaken by mechanical welding arms, proven to achieve greater precision and penetration in their welds compared to manual welding, resulting in an end product that is a work of art. 
Art of Welding

Compatibility
Mercedes-Benz CLA-Class
C118

 CLA 220 4MATIC

 (2019+)
Part Number
MP520BGS
More Information
Warranty
Stone Exhaust 2 Year Warranty
Dimension 

110cm x 33cm x 60cm
Weight
18.23 kg
Emission Notice 
Various U.S. states and the U.S. federal government have individual laws regulating the use of aftermarket exhaust parts and system, especially when the stock system is modified, remove, or if you are replacing original catalysts. Please consult the appropriate law department in your area before installing any aftermarket part or system on your vehicle to ensure compliance with all applicable laws. The purchasers are entirely responsible for informing themselves of the applicable laws where the products are to be used and to comply with those laws.